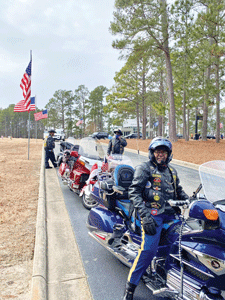 The history of the Buffalo Soldiers is full of courage, sacrifice and heroism.
Following the Civil War, Congress passed the Army Organization Act in 1866 allowing African Americans to enlist in the regular peacetime military. All-Black Cavalry and Infantry Regiments were created including the 9th and 10th Cavalry and the 24th and 25th Infantry. Serving on the frontier, these units were at the forefront of our nation's western expansion —protecting settlers, stage coaches, wagons trains and railroad crews. Much of their time was spent battling Native American Indians who were resisting federal government policies. Black soldiers, some of whom had fought for the Union Army in the Civil War, were now fighting another minority group in the name of the United States government.
The irony isn't lost on Anor "Chief" Burnside, a retired Army soldier and member of the Fayetteville Chapter of the Buffalo Soldiers Motorcycle Club.
"The majority of them were stationed out west…